Hello, happy weekend and a big welcome too if you're visiting here for the first time and joining in the party over at
2 Bags Full
. . .
It's been almost 2 years since I started this little crafty blog of mine and I am constantly amazed and delighted by how much fun it is to be a part of this worldwide group of lovely fellow bloggy peeps.
So, the short version is thus:
I'm Gilly, currently happily ensconced in the midlands of England, UK with my loved ones: The Hubby and The Two-Most-Adorable-Pups-in-the-World.
aren't they just adorable ?
And I love to make things. Baking, knitting, quilting, crocheting and a fairly new-found love of sewing are my current favourites . . . and here at gilly makes. . . HQ, there's always something on the go . . .
. . .a quilt label to be sewn,
a quilt to be posted, a bag of yarn to be crocheted and a pup to be cuddled/walked/fed,
fabric to be cut & pressed,
a dress to be finished, and a bag of knitting to be sewn up !
It's all just one big W I P . . .
So please do have a wee wander around and I hope you enjoy your visit.
Ooh, and to join in the spirit of the party, I've got a little giveaway too . . .
Now I know that not everybody likes to knit or crochet or sew etc etc, but everyone has a home, and most of us have to do the housework at some stage, right ?
So, how about some pretty things to brighten up those chore days ?
a little bundle of Cath Kidston prettiness . . .
If you'd like to enter, all you have to do is leave a comment and make sure I can contact you if you're the lucky winner. (If you're usually a No-reply Blogger, please add your email address).
That's it - simples.
Entries will close on Friday, 14th Feb 2014 and the winner will be announced on Saturday, 15th Feb 2014.
Vicky from
2 Bags Full
has done a great job in organizing this blog hop, so do pop over
here
- she will post the full list of participants on Saturday 25th Jan.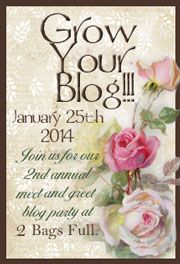 Enjoy the party. . .
xoxo